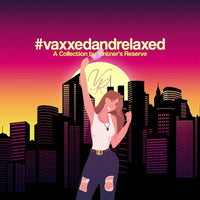 Memorial Day at Vintner's Reserve!
Our Memorial Day weekend sale is live! Through Tuesday 6/1, save 15% off all orders, and 20% off $125+. We're also offering free gifts with purchase of our newest collection, #vaxxedandrelaxed. Receive a free sample set with $50 purchase, a 5mL set with $100 purchase, and a 10mL set with $150 purchase!

And for our newest collection, now that covid cases are on the downswing and vaccination rates are up, things are slowly returning to normal and we can spend our summer relaxing with all of the fun plans that got put off from last year. Featured are five scents based on some items on my summertime bucket list, and I'd love to see you share some of the things on yours, too!
Create-Your-Own Sets Available Now!
Do you want to try out different scents without buying their own individual collections? Now you can! Available in sample sets and 5mL or 10mL full size sets, you can try five scents from any of our collections at a discount.
Shop Hexy Witch
Check out our Healing Hands Sanitizer
This was all one week worth of sanitizer orders. Crazy, right? Our Healing Hands Sanitizer is packed with moisturizing ingredients to keep your hands from drying from frequent washing, and they smell awesome too!
Shop Healing Hands
Pairing Perfumes & Cocktails
So many of our scents are based on popular wines and cocktails. Here we've paired our Mary Pickford perfume with the matching cocktail. Check out that color! A perfect fruity rum cocktail that also makes a great perfume.
Shop Mary Pickford
Absolutely fantastic!!! The scents are divine and super accurate (and I work in a liquor store rn so I definitely know lol) and they even threw in a couple of extras to sweeten the pot. I'm wearing cabernet sauvignon now and I feel like a queen! Thank you, Vintner's Reserve!

Kami B.
I ordered two sets of samples for a gift and they arrived on time, in perfect condition and in nice, gift friendly organza bags. Before ordering, I messaged the owner and the customer service I received was perfect.

I tried out the free scent sample they included for myself and it smelled *exactly* as described. It wasn't my type of scent (though it's right up my spouse's alley, so it was a win regardless), but with how accurately they nailed the scent, I can't wait to try some of their scents that are in my wheelhouse.

Bottom line - I def recommend Vintner's Reserve, whether for yourself or for gifts.

Maryam H.
Smells lovely and soft, I am very happy with this lavender scent. My parcel was delayed due to the corona crisis and just when I had given up hope of ever receiving it, it arrived in the mail. The customer service of this Etsy shop is great, as the seller had already offered to send me a replacement because it seemed like my parcel had gotten lost on the way. Thanks so much Sirah!

M.J. B.