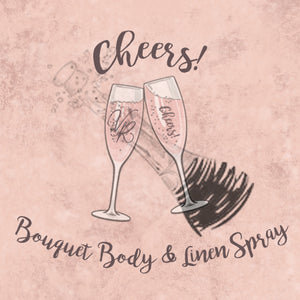 Cheers! collection fragrances are all based on popular Champagne cocktails. Great for when you're in the mood to celebrate! 
Bouquet is the term used to describe all of the different scent notes that you gather while tasting wine. Our Bouquet Body & Linen Spray will help to keep you and your home smelling great all day.
Full Ingredients List: Distilled Water, Witch Hazel, Glycerin, Fragrance. 
Your spray will come packaged in a 4oz spray bottle.