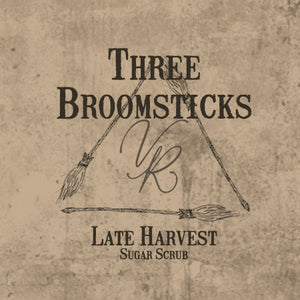 Three Broomsticks is a collection inspired by food and drinks from our favorite Wizarding World.
Late Harvest wines are made from grapes left on the vine even after they've reached peak ripeness. As the grapes are left hanging on the vine, they begin to naturally dehydrate, which increases the sugar content of the grapes. Wines made from these grapes will have a higher total sugar content and potentially a higher alcohol content than a wine made from grapes picked at their peak. This process has inspired the name of our Late Harvest Sugar Scrub, an all-natural scrub which combines the exfoliating power of organic cane sugar with skin loving butters and oils to leave skin feeling silky smooth and hydrated. Here's a breakdown of what makes this sugar scrub so powerful:
Organic Cane Sugar – Sugar is a natural source of Glycolic Acid (also known as AHA) which helps to break down dead, flaky skin and increase cell turnover. It is also a natural humectant, and helps the skin to stay hydrated and maintain moisture. Sugar crystals provide a gentle natural exfoliant to keep your skin feeling soft and smooth.
Grapeseed Oil – An abundant byproduct of winemaking, Grapeseed Oil is produced by crushing grape seeds after removing them in the grape crushing process. Packed full of omega-6 fatty acids, Vitamin E, and antioxidants, Grapeseed Oil is well known for its antimicrobial and anti-inflammatory properties and absorbs quickly to moisturize without leaving a greasy residue.
Olive Oil – Olive groves are a fixture of many European vineyards, and olive trees are one of the oldest cultivated trees in the world. This oil contains antioxidants, Vitamins A and E, and is a rich emollient, providing intense moisturizing.
Marula Oil – Also known as the elixir of youth, Marula Oil is considered sacred in some cultures. With antioxidants, amino acids, flavinoids, and essential fatty acids, Marula Oil is known for its antimicrobial properties and is intensely moisturizing but absorbs quickly.
Shea Butter – Shea Butter, processed from the nuts of the Shea tree, has been proven to have extensive anti-inflammatory and emollient properties. It contains high levels of Vitamin K to promote skin healing, Vitamin E, antioxidants, and fatty acids to protect and moisturize your skin.
Full Ingredients List: Organic Cane Sugar, Grapeseed Oil, Shea Butter, Olive Oil, Marula Oil, Tocopherol (Vitamin E), Fragrance, Color.
This scrub is available in three sizes, a 2oz mini, 4oz full size, or 8oz jumbo jar. All jars are filled by weight.